Status:
Home Page - Fri, Oct. 22, 2021 16:16 ET c
CA Rare Plant Rank 2 Starting July 2013, CNPS Inventory divides CA Rare Plant Rank 2 into 2A and 2B, similar to our treatment for Rank 1. Names previously classified 2 are now 2B. 2A refers to Rank 2 that are thought to have gone extinct in California. (CA Rare Plant Rank was formerly called "CNPS List".)
Inventory 8th edition Same data, but with GIS and other improvements. Not all 7th edition features have been added yet - you can continue to use them here. To simplify access to the new features, such as GIS, each record in the 7th edition now has a link to the corresponding record in the 8th Edition.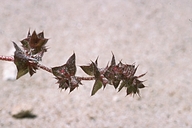 CalPhotos archive
What rare plant is this?
(Click on image.)
INTRODUCTION to the 7th EDITION
The CNPS Inventory of Rare and Endangered Plants is now published on-line and updated quarterly. Along with the latest Inventory data from CNPS, you will find a variety of search tools, maps, thumbnail illustrations, and links to additional information.
The statewide CNPS website has extensive • background information about the Inventory. Since the publication of the last hardcopy 6th Edition in 2001, the review process and revisions have been ongoing. Stay informed and get involved!
Users of the Inventory may find it helpful to read the • FAQ.
example: "Which search method should I use?" (answer)
New users might want to consult the • Getting Started guide.


6th EDITION - The last hardcopy edition was August 2001, but much of the front matter remains useful and informative: